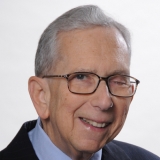 Awards
Maurer School of Law Academy of Law Alumni Fellows (2012)
About Richard S. Rhodes
For the past half century, Richard S. Rhodes has brought distinction to the profession as a litigator, arbitrator, and mediator.
Rhodes graduated with distinction from Indiana Law in 1953, where he was elected to Order of the Coif and served as note editor of the Indiana Law Journal. He was drafted in 1954 and spent two years as a regimental legal clerk at Ft. Leonard Wood, Mo. Soon after his release from the Army, Rhodes resumed a clerkship, this time for Justice Sherman Minton, LLB'15, at the United States Supreme Court. When Justice Minton retired, Rhodes was one of the first law clerks for newly appointed Justice William J. Brennan.
When his clerkship ended, Rhodes became associated with Chadwell, Kayser, a leading Chicago antitrust firm. He soon became a partner and specialized in antitrust law, enjoying a long and distinguished career for more than 30 years. During that time he spent a year as chairman of the Chicago Bar Association's antitrust law committee and a year as president of the IU Alumni Club of Chicago.
After forty years of private practice in litigation, Rhodes turned to alternative dispute resolution: arbitration under the auspices of the American Arbitration Association and mediation for the Center for Conflict Resolution. Fifteen years later, he continues to enjoy this practice.
Rhodes has been a dedicated and tireless civic volunteer. For many years, he and his wife, Judy, organized meetings for high school students to learn about IU. He has served as president of two synagogues and was one of the founders and the first president of the Chicago Foundation for Jewish Education. He has been an active member of the Law School board of visitors for 30 years.