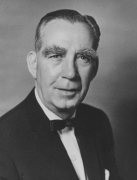 Awards
Honorary Degree (1972)

LL.D.
Doctor of Laws
Commencement
Bloomington, Indiana
Presenter: John William Ryan
About James Campbell Robb
A native of Scotland whose parents brought him to America as a small boy, James Robb followed in the footsteps of his father by entering the coal mines of western Indiana at the early age of 13 and like his father rose through the ranks to trade union leadership. He held nearly every office in his local union, and in 1936 when the split between industrial and craft unionism began to develop within the American Federation of Labor, Mr. Robb was selected to initiate the organizational campaign in Indiana for the new Congress of Industrial Organizations. He was elected president of the Indiana Industrial Union Council, becoming the first president of the Indiana State C.I.O. in 1940. When the Steelworkers Organizing Committee officially became the United Steelworkers of America in 1942, Mr. Robb was elected director of District 30, which embraces portions of Indiana, Ohio, and Kentucky. He held this post until his retirement in 1965.
Mr. Robb is often referred to as the father of labor education in Indiana because of his early and continuing championship of collegiate level educational programs for the leaders of union locals and the support of scholarship programs for children of union members. In 1947 he arranged for the first summer institute for members of his union on the Bloomington campus and was influential in persuading the State C.I.O. to follow suit that same summer. From this modest beginning has burgeoned the extensive labor education program centered at Indiana University.
The Welfare and Education Fund created by the steelworkers union under Mr. Robb's direction supports not only the educational program for union leaders but provides two annual collegiate scholarships for children of union members. In 1963 Mr. Robb was instrumental in creating the Resident Education Program at Indiana University, a pioneering effort in liberal arts education for union leaders in which the recipients lived on campus during the regular school year.
Mr. Robb has served for many years as a board member of the Indianapolis Community Chest, the Infantile Paralysis Fund, the Goodwill Industries, the Indianapolis Symphony Orchestra, the Indianapolis Redevelopment Commission, the American Red Cross, and the Indiana Research Council. He played the leading role in the creation of the Indiana C.I.O. Phillip Murray Fund for Research at the James Whitcomb Riley Hospital for Children at the Medical Center in Indianapolis.