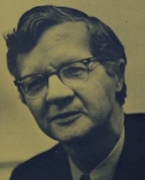 Awards
Maurer School of Law Academy of Law Alumni Fellows
About J. Edward Roush
J. Edward Roush was a former U.S. Representative from Indiana, representing the state's 4th and 5th Districts from 1959 to 1977. Roush graduated from Huntington College in 1942 and Indiana University School of Law in 1949, with a hiatus in between to serve in WWII in 1942 to 1946. After law school, Roush was elected to the Indiana General Assembly and served until he joined the U.S. Army again for the Korean War from 1950 to 1952. After the Korean War, Roush returned home to his private practice and served as the Huntington County prosecuting attorney.
In 1958, he ran for election to the U.S. House of Representatives for Indiana's 5th District, serving 10 years before his defeat in 1968. Returning in 1971 as representative from the 4th district, he served another six years before his defeat in 1976. He served on the Space and Aeronautics and Government Operations Committees during his first tenure and on the Appropriations Committee during his second tenure. He was active in establishing of the Indiana Dunes National Lakeshore and in the creation of the 911 emergency communication system.
After his time in Congress, Roush was the director of regional and intergovernmental operations for the United States Environmental Protection Agency from 1977 to 1979, and became the interim president of Huntington College in 1989.