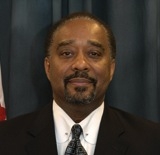 Awards
Maurer School of Law Academy of Law Alumni Fellows (2006)
About Frank Seales, Jr.
Frank Seales, Jr., JD'74, is the general counsel of the District of Columbia Department of Transportation. As an transportation law and policy expert, Seales has over thirty years of experience leading legal departments from the local to the federal level. Prior to his appointment as the general counsel in 2001, Seales was the chief counsel for the National Highway Traffic Safety Administration (NHTSA), and the chief and senior assistant attorney general for Antitrust and Consumer Litigation in the Virginia Attorney General's Office.
His career includes cases such as the Firestone tire investigation, which led to the largest recall in the history of the NHTSA and recovering millions in penalties for the state of Virginia. Seales began his anti-trust work as a senior trial attorney in the Antitrust Division of the U.S. Department of Justice. He holds a B.A. from Tennessee State University and a J.D. from Indiana University. In addition to his current position, Seales is the treasurer of the National Bar Institute.