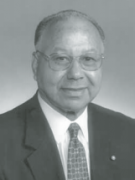 Awards
Maurer School of Law Academy of Law Alumni Fellows (1999)
About William R. Stewart
William R. Stewart has had a long and highly distinguished career with the National Labor Relations Board (NLRB). After 34 years of service, Stewart retired in 1997 as chief counsel to NLRB Board Chairman William B. Gould IV. He was the first African American to serve as the chief counsel.
Stewart received his B.A. degree from IU in 1954, when he was a Phi Beta Kappa graduate majoring in government, and a law degree from IU in 1959. While working on his undergraduate degree, Stewart was the houseman for two years to then-IU President Herman B Wells.
He enrolled in law school on a full scholarship but was called to active duty with the U.S. Army in 1955, where he served with the 3rd Armored Division in Germany. Stewart was selected to be the courts and boards officer and assistant adjutant of the combat command of more than 5,000 men. In less than two years, he was promoted to the rank of first lieutenant. Upon returning to the IU School of Law, he joined the Indiana Law Journal Editorial Board as note editor.
Stewart began his NLRB career in 1963 as a legal assistant on the staff of former Chairman Frank W. McCulloch, after having been employed for four years as an attorney at the Atomic Energy Commission. In 1967 and again in 1970, he was selected to be president of the NLRB Professional Association.
Throughout the years, Stewart received several promotions and was ultimately appointed to the position of chief counsel to the chairman in 1994. In 1997, he was presented with the President's Award for Distinguished Federal Civilian Service by President Clinton. He was cited for his exceptional abilities as a legal scholar, litigation expert and manager. This award is the highest honor the federal government can grant to a career civilian employee.