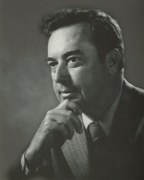 Awards
Maurer School of Law Academy of Law Alumni Fellows
About Charles L. Whistler
Charles L. Whistler graduated magna cum laude in both undergraduate and law schools at Indiana University. He was an editor of Indiana Law Journal and member of the Order of the Coif. Upon graduation in 1951, he joined Baker and Daniels in Indianapolis where his primary emphasis was labor law.
Whistler played a leading role in the shaping of Indianapolis and its modern political structure. He wrote much of the legislation consolidating the city and county governments under Unigov. He co-chaired the Regional Center Planning Committee, which sponsored the creation of the City Center on Monument Circle. He was instrumental in the reopening of the Indiana Theatre, the downtown shopping mall concept, and the planning of White River Park.
The Charles L. Whistler Faculty Fellowship was established in 1982 by Baker and Daniels together with memorial contributions after his unexpected death resulting from complications following coronary bypass surgery in 1981.