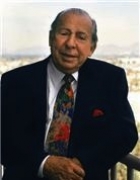 Awards
IU Foundation President's Medallion (2008)
McKinney School of Law Distinguished Alumni Award (1989)
About Frank E. Russell
Frank E. Russell was a newspaper executive who used his background as a lawyer and certified public accountant to build Central Newspapers, Inc. (CNI) into one of the country's most successful newspaper companies. He also developed the Nina Mason Pulliam Charitable Trust into one of the largest philanthropic foundations in Arizona and Indiana.
Born in Kokomo, IN, Russell grew up all over the state of Indiana. He graduated from the University of Evansville in 1942 and later joined the U.S. Marine Corps as a first lieutenant in WWII. After the war, Russell earned a certificate from the International Accountants Society in Chicago in 1946. He became a certified public accountant in 1948. Next, he attended Indiana University School of Law - Indianapolis, graduating with honors in 1951.
After law school, he became the executive vice president of Spickelmier Industries, Inc., from 1953 to 1959. At the same time, he was already a partner with the Geo. S. Olive & Co. (now BKD) accounting firm from 1947 to 1953. Russell began his newspaper career in 1959 working for CNI as the business manager at the Indianapolis newspapers, a position he held until 1977 when he was named vice president and general manager of CNI. Russell then was named president in 1979, which he served as until 1995. After he stepped down from the position, Russell became the chairman of the company's board until 1998. By that time, CNI had grown to become the parent company of Indianapolis Newspapers Inc. and Phoenix Newspapers Inc., including The Indianapolis Star, The Indianapolis News, The Arizona Republic, The Phoenix Gazette, The Muncie Star, The Muncie Evening Press, Topics Newspapers, The Vincennes Sun-Commercial and The Alexandria Daily Town Talk in Alexandria, LA. CNI had been founded by Eugene and Nina Mason Pulliam in 1934. When Nina Mason Pulliam passed awar in 1997, Russell was named chairman and founding Trustee of the Nina Mason Pulliam Charitable Trust, one of the most significant charitable foundations in Arizona and Indiana. Under his direction, the Trust granted more than $192 million to 847 nonprofit organizations in Arizona and Indiana helping people in need, protecting animals and nature and enriching community life in Indianapolis and Phoenix. The organization also created a scholarship program, the Nina Mason Pulliam Legacy Scholars, for nontraditional scholarship recipients that brought them a college education.
Russell's career did not keep him from being an active participant in the community, both in Arizona and Indiana. He served as a director of the Newspaper Advertising Bureau, Inc. and governor of Newspaper Association of America. Russell also was a life trustee of the University of Evansville and served as director of the Eiteljorg Museum of American Indians and Western Art, Methodist Hospital, Winona Memorial Foundation of Indianapolis, Walther Cancer Institute and president of the Institute of Newspaper Controllers and Finance Officers, treasurer of the Meridian Street United Methodist Church, director and president of the YMCA of Greater Indianapolis and a member and past vice chairman of the Advisory Board of the Salvation Army. He served as a director for the Arizona community Foundation and The Phoenix Zoo. In addition, Russell was a past chairman of the WFYI advisory board and honorary director of the Metropolitan Indianapolis Television Association, past director of the 500 Festival Association, Historic Landmarks Foundation of Indiana, United Way of Greater Indianapolis, the advisory board of the Girls Clubs of Greater Indianapolis and Girls Clubs Foundation, Arizona Community Foundation and director and past president of Meridian Hills Country Club. His membership included the Indianapolis, Indiana and American bar associations, the Indiana Association of Certified Public Accountants, American Institute of CPAs, IU Board of Visitors for School of Law, The Indiana Academy, Indianapolis Zoological Society Advisory Committee, Economic Club, Press Club, Indiana Society of Chicago, Indianapolis Athletic Club, Columbia Club, Kiwanis Club of Indianapolis, Sigma Alpha Epsilon, Phi Delta Phi, Order of Coif a legal honorary society Mystic Tie Lodge 398, Scottish Rite and Shrine.
Because of his distinguished career, Russell has earned various awards and recognitions. He was recognized by the Arizona State University Walter Cronkite School of Journalism and Mass Communication for his years of leadership in Phoenix when it created the Frank E. Russell Chair in Business and Journalism. Marian University also honored Russell at its 6th Annual ""Opportunities for Excellence"" dinner for his significant contributions to the state of Indiana. He also was presented with the Sagamore of the Wabash for Indiana. He has been listed in Who's Who in America since 1971, Who's Who in the Midwest since 1975 and Who's Who in Advertising since 1988.