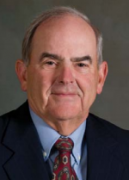 Awards
McKinney School of Law Distinguished Alumni Award (1989)
About Jack R. Shaw
Jack R. Shaw is the vice president and treasurer of the Regenstrief Foundation. Prior to his appointment to the company in August 2002, Shaw was the managing partner of Ernst & Young in Indianapolis. He spent 35 years with the firm, spending the last six as the managing partner.
He holds a B.S. in accounting from Indiana University and a J.D. from Indiana University School of Law - Indianapolis. Shaw also is a certified public accountant. Along with his career in law, he has been involved with numerous organizations, serving on the boards of directors of the Arts Council of Indianapolis, the Indianapolis Chamber of Commerce, the Indianapolis Convention and Visitors Association, the Children's Museum of Indianapolis, United Way of Central Indiana, and the Central Indiana Corporate Partnership. In addition, Shaw served on the Dean's Advisory Council of
the Indiana University Kelley School of Business.