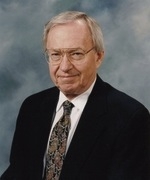 Awards
McKinney School of Law Distinguished Alumni Award (1990)
About Edgar Bayliff
Edgar Bayliff was a practicing lawyer for more than 50 years in Kokomo, IN. A WWII and Korean War veteran, Bayliff received his B.A. degree from Indiana University in 1951 and earned his J.D. from Indiana University School of Law — Indianapolis in 1954. He became an Order of the Coif while in law school.
Bayliff returned to Kokomo after law school, and later co-founded the firm, Bayliff, Harrigan, Cord and Maugans in 1966. He remained with the firm for nearly 40 years. In 1966, he also was the president of the Indiana Trial Lawyers Association and was honored by that organization with its three highest awards — Trial Lawyer of the Year, the Hoosier Freedom Award and the Lifetime Achievement Award. For many years, Bayliff served on the Board of Governors for the American Trial Lawyers Association. In 1983, Bayliff contributed greatly to state law regarding injured Hoosiers citizetns with his work that helped lead to the passage of the Comparative Fault Act, which changed how juries award damages in the state. He received a Distinguished Service Award from Indiana University School of Law — Indianapolis in 1990.
Bayliff was active in the Main Street United Methodist Church for more than 50 years and was a longtime member of the Kokomo Country Club.