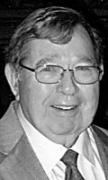 Awards
IUPUI Spirit of Philanthropy Award (2007)
McKinney School of Law Distinguished Alumni Award (1990)
About J. Patrick Endsley
J. Patrick Endsley was a retired united States Magistrate Judge. A military veteran who served during the occupation of Japan, he was also a graduate of IU's School of Business, as well as the law school. During his long career, he was an active member of the city, state, 7th Circuit, federal and American bar associations. He served as president of the Indianapolis Chapter of the federal Bar Association, and director of the Association of Conciliation Courts. He was also a member of the federal Magistrate Judges Association and served as counsel for the Sugamo Prison Veterans Associations.
A life-long Democrat, Judge Endsley served as precinct and ward chair, and was awarded the JFK Award by the Marion County Young Democrats. He was admitted to practice before the Supreme Court of the united States, as well as the U.S. District Court for the Southern District of Indiana, the 7th Circuit
Court of Appeals, and the Indiana bar. Judge Endsley practiced in Marion County from 1956 until his election as Judge of the Circuit Court, 19th Judicial Circuit in 1974. In 1978, he was appointed as a united States Magistrate for the Southern District of Indiana and held that position until his retirement
in 1994. His other civic roles included serving as ClerkTreasurer of the then Town of Lawrence, Deputy City and County Prosecutor, Public Defender and Chief Deputy Attorney General under the late John J. Dillon '52 from 1965 until 1969.
In retirement he served as chairman of the organizing committee for the federal Court's Public Defender Program in the Southern District, having served on its Board of Directors for a number of years. Endsley was named a Sagamore of the Wabash by both Governor Roger Branigan and Governor Evan Bayh. In addition, he was a member of the Honorable Order of Kentucky Colonels. A dedicated supporter of the law school's alumni association, he was a member of the Alumni Association Board of Directors for over a decade and in 1990 received the Distinguished Alumni Service Award from the IUAA. He was recognized with IUPUI's Spirit of Philanthropy award for his volunteer and financial donations to the law school.