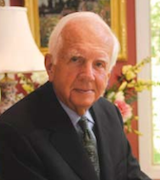 Awards
IUPUI Spirit of Philanthropy Award (1998)
McKinney School of Law Distinguished Alumni Award (1990)
About David W. Givens, Sr.
David W. Givens, Sr., thrived in a law and banking career stretching more than 33 years and continuing with enthusiastic support for the law school.
The School of Law's evening program allowed Givens to continue to work at the Indiana Bureau of Motor Vehicles, where he was deputy commissioner. After Givens graduated, he joined Bushmann, Krieg, DeVault, Alexander (now Krieg DeVault). in 1974, he became general counsel for Indiana National Corporation, the parent corporation of the Indiana National Bank, retiring as president and chief operating officer of NBD Indiana, Inc.
Following his retirement from the bank, Givens was Of Counsel with the firm Johnson Smith Densborn & Wright for several years. As a former trustee for his undergraduate alma mater, Wabash College, Givens also served on the law school's Board of Visitors, the Greater Indianapolis Progress committee and the Indianapolis 500 Festival, as well as on the national and international boards for Visa Credit Card.