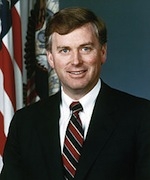 Awards
McKinney School of Law Distinguished Alumni Award (1991)
About Dan Quayle
Dan Quayle served as the 44th Vice President of the United States under President George H.W. Bush. During his political career, Quayle was a two-term U.S. representative and two-term U.S. Senator. He writes a nationally syndicated newspaper column and is the author of three books, Standing Firm, The American Family: Discovering the Values that Make Us Strong and Worth Fighting For. The former U.S. Congressman and Senator for Indiana currently serves as Chairman of Cerberus global Investments, llC, one of the world's leading private investment firms.
Quayle is widely considered to have been one of the most active vice Presidents in history. Only 41 when he was elected vice President, he was the first member of his generation to hold one of the top political offices in the nation. In his constitutional role as vice President, he served as president of the United States Senate. On February 9, 1989, President Bush named Quayle head of the Council of Competitiveness, which worked to ensure U.S. international
competitiveness in the 21st century. He made official visits to 47 countries and was chairman of the National Space Council.