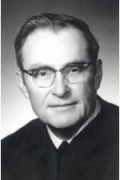 Awards
McKinney School of Law Distinguished Alumni Award (1992)
About Richard M. Givan
Richard M. Givan was the fifth-longest serving Justice in Indiana Supreme Court history, the second-longest serving Chief Justice, and the Supreme Court's most prolific author of majority opinions in the past 130 years. Noteworthy also is his transitional role when the appellate judicial selection
system underwent massive constitutional revision and as the court began to substantially expand its administrative responsibilities. Givan served in the court from January 6, 1969 to January 4, 1995.
Givan's life was enormously rich and memorable in many ways apart from his noteworthy legal career. He was a loving and devoted husband, the
father of four daughters, a stalwart of his church, the Fairfield Friends Meeting in Camby, Indiana, a mainstay of his local Lions Club, a U.S. Army Air Corps pilot during World War II, an avid Arabian show horse trainer, a photographer at the Indianapolis 500 automobile race, and a person with numerous other passions. His folksy, plain-spoken, and unpretentious manner resulted in many devoted friends and admirers from all walks of life.
Justice Givan's judicial service was richly colored by his forbearers and his own exceptionally broad legal and political experiences. He was a fourth generation Hoosier lawyer, and both his father and great-grandfather had been Indiana trial court judges. A graduate of this law school in 1951, Givan's sixteen and one half years of law practice included work as a state public defender, a Marion County deputy prosecutor, and an Indianapolis trial lawyer whose extensive jury trial experience included twenty-eight jury trials in eighteen Indiana counties outside Marion County. Givan also argued more than fifty appellate cases before the Indiana Supreme Court and two cases before the U.S. Supreme Court. Before becoming an Indiana Supreme Court justice and eventually the Chief Justice of Indiana, Givan had already served in the other two branches of state government. He served in the executive branch from 1953 to 1964 as a Deputy Attorney General and was then elected to the Indiana House of Representatives in 1966. During his legislative service, the General Assembly gave the first of two required approvals for a comprehensive amendment to the Judicial Article of the Indiana Constitution. Among other things, the amendment discarded appellate judicial selection by frequent partisan political elections in favor of a system of gubernatorial appointment following an evaluative selection process, with each appointee's retention subject to non-partisan approval votes by the electorate
every ten years. One of the associated revisions changed the title of Indiana Supreme Court "judge" to "justice." Before the constitutional amendment
process was completed, Givan was nominated at the state Republican Convention, and subsequently elected, to the position of Judge of the Indiana
Supreme Court. After the adoption of the amendment, Justice Givan was repeatedly successful in seeking retention, receiving favorable state-wide voter
approvals of 64.7% in 1974 and 66.1% in 1984. He and Justice Roger O. DeBruler were the only two Supreme Court judges elected under the former
political election system and thereafter retained under the nomination/appointment system.
As Chief Justice, Givan shepherded substantial enhancements of the court's administrative functions. During his tenure, statutory authorization was
received for the creation and funding of the offices of Supreme Court Administration and State Court Administration. He was also instrumental in
convincing the legislature to provide new statutory authority and substantial assured funding for the Indiana Judicial Center as a Supreme Court agency, in order to provide Indiana trial judges with a valuable research function and continuing judicial education. Also under his direction as Chief Justice, the
court in 1986 adopted Indiana's first program for the continuing legal education of Hoosier lawyers. These developments were a stark contrast to Givan's
law school days when he served as the court's first law clerk (serving all five judges) and as its assistant law librarian.
He highly valued lawyers and considered them the principal audience for his written opinions. He often reminded his colleagues of the need for brevity in our opinions to minimize the burden on lawyers' time. His own opinions were characteristically short, succinct, and unencumbered by extensive legal analysis. For him, the principal task of an appellate judge was to decide cases promptly, fairly, and without unneeded expounding or pondering about the
legal principles involved. Givan's frugality with the written word and his plain-spoken practicality is particularly evident from his notoriously sparse use
of footnotes. His 1,571 majority opinions collectively contained a total of only fourteen footnotes, an average of one footnote approximately every 112
opinions, or one every 1.9 years. During an eight-year period from December 14, 1977 until January 24, 1986, he authored 500 consecutive majority opinions without using a single footnote.
His work ethic was legendary. He would arrive at the court early each day (after feeding his horses) and attend to his judicial duties very purposefully. And when his colleagues' proposed opinions were circulated for vote, Givan was inevitably the first to respond. Likely a product of his extensive experience as a trial lawyer, Justice Givan spoke with high regard for the wisdom of juries and their verdicts. Not infrequently, his opinions affirmed or reinstated jury verdicts. He didn't hesitate to dissent when concluding that "the majority has transcended the bounds of appellate review and has engaged in a weighing of the evidence."
Having served in both the legislative and executive branches before he came to the Court, it is particularly noteworthy that in his judicial leadership and case decisions, Givan was a tenacious defender of the separation of powers between each branch of government. Several of his opinions asserted the
independence of the judicial branch by striking down legislation to the contrary. Not only did he persistently resist legislative attempts to engage in court
functions, but also he opposed judicial attempts to engage in social policy determinations that he viewed as proper for legislative decision-making. For
example, in State ex rel. Masariu v. Marion Superior Court No. 1, which issued a writ of prohibition barring prosecution of an action seeking to compel the
Principal Clerk of the Indiana House of Representatives to make public certain voting records of the House, he wrote that further litigation "would amount to constitutionally impermissible judicial interference with the internal operations of the legislative branch."
Givan's strong sense that judicial obligation supersedes personal ideology is strikingly illustrated in his handling of capital cases. Active in his Quaker church, he was also personally opposed to the death penalty. While serving in the Indiana legislature, Dick Givan had sponsored legislation that would have abolished capital punishment in Indiana. Thirty-two years later, following his retirement from the bench, he appeared before the Indiana Senate's
Committee on Corrections, Criminal and Civil Procedures and testified in favor of Senate Bill 298, which again sought to abolish capital punishment in Indiana. In areas subject to proper judicial oversight, such as the common law, Justice Givan was not hesitant to embrace and advocate change. He concurred in several opinions abrogating outmoded common law doctrines. And he authored, over a strident dissent, the Court's opinion in Petition of Hauptly that recognized the right of a married woman to change her legal name from her husband's surname to her own maiden name. Justice Givan was also the first Indiana justice to hire an African-American lawyer to serve as his law clerk for a regular term. He was not hesitant to defy gender and racial discrimination and spoke with pride of his father's resistance to judicial bigotry in the 1920s. Justice Givan was gratified that, when he retired, his replacement was Myra Selby, the first woman and the first African-American to serve as a justice on the Indiana Supreme Court. Dedicated, industrious, prolific, practical, straight-forward, plain-spoken, candid, highly-principled, humble, respectful of the past but open to change, Justice Richard M. Givan is an enormous transitional presence in the history of the Indiana Supreme Court.