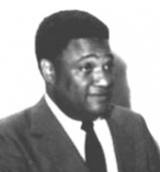 Awards
McKinney School of Law Distinguished Alumni Award (1994)
About Taylor L. Baker, Jr.
Taylor L. Baker, Jr., is a retired judge who served in the Marion County Superior Court. He sat on the bench for 24 years, covering Criminal Division, Civil Division, and the Environmental Court. Baker was also a presiding judge of the court.
He holds a bachelor's degree from Morehouse College and a J.D. from Indiana University School of Law in Indianapolis, Indiana. After he was admitted to practice in 1963, he became the first African American city prosecutor of Indianapolis. Throughout his career, Baker was involved in numerous organizations. He is the past president of the Marion County Bar Association, past secretary of the Indiana State Bar Association and past member of the board of directors for the the American Bar Association National Conference of Special Court Judges. Baker was one of the co-founders of the Indianapolis Professional Association in 1984, helping establish an organization to support African Americans in the Indianapolis metro area. Currently, he is a member of the Indiana State Board of Law Examiners Committee on Character and Fitness. Baker is also a member of the American Bar Association Judicial Administration Division Jury Standards Committee; a member of the Indiana Judicial Center Committee on Criminal Jury Instructions; and serves on the National Center for State Courts Minority Recruiting Advisory Committee. Outside the law field, Baker belongs to the Omega Psi Phi Fraternity and regularly volunteers his time to low-income, at risk children during the Indianapolis Children's Museum weekly Thursday evening program.