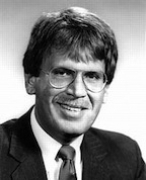 Awards
McKinney School of Law Distinguished Alumni Award (1997)
About John R. Hodowal
John R. Hodowal is the former chairman and CEO of IPALCO Enterprises. He was named chairman and CEO in 1989 and retired in 2000 when AES Corporation acquired IPALCO.
Growing up in Richmond, IN, Hodowal's interest in science and engineerng led him to earn a bachelor's degree in engineering from Purdue University in 1966. He started law school at IU-Indianapolis in 1967, but would not finish his degree until 1970 because he needed to work to support his family. During law school, he joined Indianapolis Power & Light as a junior engineer. In 1976, he planned on moving to Virginia to set up a law practice, but then-IPL chairman Zane Todd asked him to stay and become the company's treasurer.
Hodowal spent the next thirteen years in the company's utility finance, and helping set up IPALCO Enterprises, the holding company that became IPL's parent corporation. He also established Mid-America Capital Resources, Inc., which he became president of in 1984. The subsidiary company sold within two years, bringing IPALCO $48 million dollars.