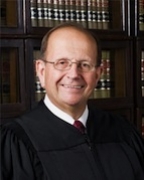 Awards
Bicentennial Medal (2020)
IUPUI Spirit of Philanthropy Award (2004)
McKinney School of Law Distinguished Alumni Award (1999)
About Brent E. Dickson
Brent E. Dickson is the Chief Justice of the Indiana Supreme Court. He was appointed to the Indiana Supreme Court in January 1986, by Governor Robert D. Orr. Prior to his judicial appointment, Dickson spent 17 years as a general practice lawyer in Lafayette, IN, where where he earned certification as a Civil Trial Advocate by the National Board of Trial Advocacy. He became Chief Justice of Indiana on May 15, 2012.
Justice Dickson's writings, speeches, and activities reflect his longstanding interests in fostering attorney civility, preserving and enhancing our jury trial system, developing and encouraging mediation, and promoting the study and application of state constitutional law. Dickson is co-founder of the Sagamore Chapter of the American Inns of Court in Indianapolis, an elected member of the American Law Institute, a registered mediator, and has been an active participant in a host of local, state, and national judicial and legal organizations. For more than ten years, he has served as an adjunct professor teaching an evening course in Indiana Constitutional Law at both Indiana University's Mauer School of Law in Bloomington and its Robert H. McKinney School of Law in Indianapolis. During his tenure, Dickson has been a chair of the Supreme Court Records Management Committee, the Judicial Data Processing Oversight Committee, and the Task Force on Access to Court Records. Also, he served for twenty-five years as the court's liaison to its Disciplinary Commission and Board of Law Examiners.
He graduated from Purdue University in 1968 and Indiana University's Robert H. McKinney School of Law in 1968.
In 2020, Brent E. Dickson was presented the Bicentennial Medal for his distinguished service to Indiana University.