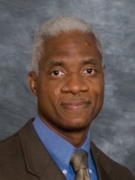 Awards
Bicentennial Medal (2020)
Dr. Charlie Nelms Alumni Award (2009)
McKinney School of Law Distinguished Alumni Award (2004)
About Dennis Bland
Dennis E. Bland is president of the Center for Leadership Development, a non-profit Indianapolis organization dedicated to preparing African American youth for academic, college and career success. Founded in 1977, CLD offers 11 curriculum-based youth development programs that nurture over 1,200 teens and parents per year. CLD's five core values are Character, Education, Leadership, Service and Career.Prior to joining CLD, Mr. Bland practiced law for nine years specializing in medical malpractice litigation and insurance law.
Mr. Bland earned a bachelors degree in economics from DePauw University and a juris doctorate from the Indiana University School of Law, Indianapolis. He was appointed by Indiana Gov. Frank O'Bannon to the Indiana Commission for Higher Education, and was reappointed in 2008 by Gov. Mitch Daniels. Gov. Daniels appointed him to also serve on the Indiana Education Roundtable.
Mr. Bland received the President's Medal of Distinction from Ball State University in 2008 in recognition of his dedication to empowering African-American youth for academic, college and career achievement. He also has received the Distinguished Alumni Service award for Humanities from DePauw University; the Distinguished Alumni Service Award from Indiana University School of Law, Indianapolis; the Distinguished Alumni Award from Broad Ripple High School; and the Distinguished Community Service Award from the Black Nurses Association of Indianapolis.
Mr. Bland serves on many boards, including the Tobias Center on Leadership, Indiana InternNet, Indiana University Law-Indianapolis Alumni Association, the Indiana Black Expo Economic Development Corporation and the Indianapolis Arts Council. His many accomplishments include receiving a Mayor's Community Volunteerism Award in 1998; recognition in 2003 by the Indianapolis Star as part of the "New Generation of Black Leadership;" and being chosen as one of the "Top Forty Under 40" by the Indianapolis Business Journal in February 2004. He also received the McKinney School of Law Distinguished Alumni Award in the same year.
In 2020, Bland was presented the Bicentennial Medal for his distinguished contributions to Indiana University.