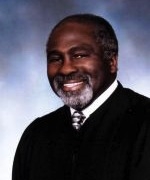 Awards
IUPUI Spirit of Philanthropy Award (2018)
McKinney School of Law Distinguished Alumni Award (2006)
About Carr L. Darden
Hon. Carr L. Darden has served on the Indiana Court of Appeals since 1994. Prior to being appointed to the Court of Appeals, he served as a presiding judge in the Marion County Superior Court and the Marion County Municipal Court systems. He also served as the Chief Deputy State Public Defender.
Over the years, Judge Darden has received many awards, including two Sagamore of the Wabash awards, Indiana's highest distinguished citizen recognition. In November of 2004, he was presented with the prestigious Paul H. Buchanan, Jr. Award of Excellence by the Indianapolis Bar Foundation. He is deeply involved in his church and community, serving on the boards of numerous charitable organizations. Judge Darden has participated at many legal and educational seminars as a facilitator or panel member. He is a lifetime member of the NAACP, National Bar Association and the Marion County Bar Association. One of the awards that he cherishes most is the recognition by his peers of being "Exceptionally Qualified" to serve as a trial court judge.
Judge Darden served his country's military and received an honorable discharge from the United States Air Force in 1959. He received his B.S. degree from Indiana University School of Business in 1966. He is also a graduate of the Judicial College of Indiana in 1998 and the Indiana Graduate Program for Judges in 2004. He is a native of Nashville, Tennessee but is a very proud "Hoosier" by choice and has lived in Indiana most of his life.