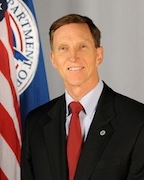 Awards
Bicentennial Medal (2020)
McKinney School of Law Distinguished Alumni Award (2009)
About John S. Pistole
John S. Pistole is the Administrator of the United States Transportation Security Administration (TSA) and the former deputy director of the FBI. He was confirmed as the TSA's Administrator in July 2010. In that role, he oversees management of a 61,000-strong workforce, the security operations of more than 450 federalized airports, the Federal Air Marshal Service, and the security for highways, railroads, ports, mass transit systems, and pipelines. Before that, as deputy director of the FBI (appointed in 2004), Pistole was the chief operating officer of the bureau, overseeing a $7 billion annual budget and 31,000 employees dedicated to defending the nation against terrorist and foreign intelligence threats, enforcing the criminal laws of the U.S., and providing criminal justice services to other agencies and partners. This position in the FBI is the highest ranked official in that agency not appointed by the President.
He began his career as a Special Agent with the FBI in 1983. He served in the Minneapolis and New York Divisions before being promoted to a Supervisor in the Organized Crime (OC) Section at FBIHQ. He assisted the Italian National Police in their investigations into the 1992 assassinations of two prominent Magistrates. He also served as an Instructor in OC matters at the FBI Academy for nearly 30 New Agents Classes.
Pistole later served as a field supervisor of a White-Collar Crime (WCC) and Civil Rights Squad in Indianapolis, Indiana, where he created a Health Care Fraud Task Force and a Public Corruption Task Force. During this time, he also developed curricula and provided instruction at the International Law Enforcement Academy in Budapest, Hungary.
Pistole next served as Assistant Special Agent in Charge, Boston, Massachusetts, where he had oversight for WCC, Computer Intrusion Programs, and all FBI matters in the States of Maine and New Hampshire and WCC, especially Public Corruption, in Rhode Island. In 1999, he helped lead the investigative and recovery efforts for the Egypt Air Flight 990 crash off the coast of Rhode Island. Following the espionage arrest of Robert Hanssen, he was detailed to FBIHQ and helped lead the Information Security Working Group, addressing security and vulnerability issues. In 2001, he was named an Inspector in the Inspection Division in Washington, D.C., where he led teams conducting evaluations and audits of FBI field offices and Headquarters divisions.
Following the events of 9/11, Director Mueller appointed Pistole to the Counterterrorism Division, first as Deputy Assistant Director for Operations, then as Assistant Director. Pistole was then appointed as the Executive Assistant Director for Counterterrorism and Counterintelligence. In October, 2004, Pistole was promoted to Deputy Director, the number two position in the FBI. He is a recipient of the 2005 Presidential Rank Award for Distinguished Executive. In 2007, Pistole received the Edward H. Levy Award for Outstanding Professionalism and Exemplary Integrity.