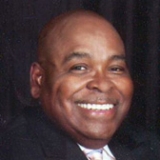 Awards
Distinguished Alumni Service Award (2022)
McKinney School of Law Distinguished Alumni Award (2010)
About Rev. Franklin Breckenridge
Rev. Franklin Breckenridge, Sr., was the former counsel for Miles Laboratories and served as President of the Indiana State NAACP for 25 years. In addition, he is a life member of the IUAA and served as chair of the school's Board of Visitors for two terms.
After earning his Bachelor of Science in Education from IU, Breckenridge worked in the Head Start programs while attending law school. In addition to teaching, he also worked at the Indiana Department of Revenue. After graduating in 1968, Rev. Breckenridge says he "hung out his shingle" in Kokomo where he practiced for five years.
In 1973, Rev. Breckenridge accepted the position of Corporate Attorney at Miles Laboratories, Inc., now Bayer Corp., then based in Elkhart. After an early retirement from Bayer in 1998, he again went into private practice, this time in Elkhart. He received his Master of Divinity Degree in 1999 from Associate Mennonite Bible Seminaries and is currently serving as Pastor of Olivet A.M.E. Church in South Bend.
A member of the National Association for the Advancement of Colored People (NAACP) since 1954, he has served as vice chairman of the NAACP since 1995 and served as a member of the National Board and assistant treasurer from 1988 to 2000. He was president of the Indiana State NAACP for 25 years, the longest tenure of any state president, and many of the innovative ideas he introduced locally have been adopted nationally.
He is the recipient of the William R. Ming Advocacy Award for legal services and the Kelly M. Alexander, Sr. outstanding State Conference President's Award. He also helped to form the Black Judicial Officials in 1990 and received the Sagamore of the Wabash from Governors Evan Bayh and Frank O'Bannon.
In August 2009, Breckenridge was inducted into the National Bar Association (NBA) Hall of Fame, a high honor bestowed by the NBA upon members of the bar who have been in pursuit of justice and equality before the courts of the United States of America.