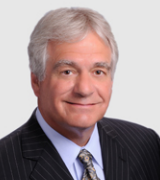 Awards
Bicentennial Medal (2019)
McKinney School of Law Distinguished Alumni Award (2011)
IUPUI Spirit of Philanthropy Award (2008)
About Stephen A. Stitle
Stephen A. Stitle is a partner and member of the Kreig DeVault law firm's Financial Institutions and Business practice groups. Before Stitle joined the firm in 2012, he was the regional president for PNC Bank, Indiana. He also previously served as president of National City Bank in Indiana and executive vice president of National City Corporation. Prior to joining National City, Stitle served in a variety of executive positions for Eli Lilly and Company for nearly 25 years.
Stitle's exemplary civic involvement encompasses a wide array of community organizations. He currently serves on the boards of directors for the Central Indiana Corporate Partnership, Center for Leadership Development, Indiana Chamber of Commerce, Greater Indianapolis Chamber of Commerce, Indiana University Foundation, St. Vincent's Heart Center of Indiana, Greater Indianapolis Progress Committee, Pacers Foundation, Inc., United States Auto Club, Simon Youth Foundation, and Sagamore Institute for Policy Research. He is the former chairman of the board of directors of the Indianapolis Chamber of Commerce and served on the board of trustees of DePauw University. One of his many award nominators described Stitle, "Whether in his profession as an intelligent, knowledgeable, highly respected banker, or in his community role as a leader, philanthropist, and supporter of countless non-profit organizations, Steve is a winner."
Stitle has served on the law school's Board of Visitors for many years and he has volunteered annually for the law school's mock interview program since its inception in 2006. He used his fundraising expertise for the benefit of his alma mater while serving as a co-chair of the school's highly successful capital campaign to raise funds for the new building. Throughout his impressive career, he has consistently shown dedication toward the law school and the university, as well as leadership among his alumni and community peers. Stitle received a bachelor of arts degree in political science and economics from IU in 1967 and was awarded the J.D., cum laude, from the law school in 1970.