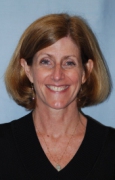 Awards
Bicentennial Medal (2020)
McKinney School of Law Distinguished Alumni Award (2012)
About Jane Magnus-Stinson
Jane E. Magnus-Stinson is a 1983 IU graduate and judge of the U.S. District Court for the Southern District of Indiana.
Magnus-Stinson, a cum laude graduate of the law school, was sworn in as a judge of the U.S. District Court in June 2010 after being nominated in January of the same year. She had served as a magistrate judge in that court since 2007.
Twice elected to the Marion Superior Court, she served there from 1995 to 2007, and served as associate presiding judge during 2005-2006. She was counsel and deputy chief of staff to then-Governor Bayh from 1991 to 1995, and early in her career had a civil litigation practice at the firm LewisWagner. She is a member, and former Chair, of the law school's Board of Visitors.