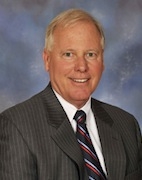 Awards
School of Education Distinguished Alumni Award (2007)
About B. James Dawson
B. James Dawson is the current president of Lincoln Memorial University in Harrogate, TN, and the former president of Coker College in Hartsville, SC. Dawson holds a B.A. and a M.A. from the University of Evansville, and an Ed.D. from Indiana University.
He began his career in academics as an admissions counselor at University of Evansville, ultimately working a variety of positions including a vice president post. In 1988, Dawson became the vice president of student and institution development at Fort Hays State University. Dawson's first presidency at the university level was at Tennessee Wesleyan College in Athens, TN from 1995 to 2002. He then served as the president of Coker College from 2002 to 2009. Under his leadership, Coker College successfully completed a $23 million capital fundraising effort, which enabled the university to construct the Charles W. and Joan S. Coker Library-Information Technology Center. The money also was used to improve academic programs, residence halls, and campus landscaping.
Dawson is nationally known for his efforts in alcohol and drug abuse prevention. He serves on the national board of BACCHUS and Gamma, and is a member of the Presidents Leadership Group, which had a concentrated effort to involved university leaders in the campaign against alcohol and drug abuse on campuses. In addition, he is a Paul Harris Fellow with Rotary International.