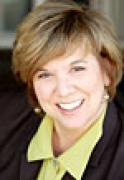 Awards
School of Education Distinguished Alumni Award (2003)
About Cynthia Cleveland
Cynthia Cleveland is the owner of Broadthink, and the CEO of BroadLit. Broadthink is a media, marketing and branding company dedicated to maximizing opportunities while minimizing risk for a brand through merchandising, licensing, media, and marketing. BroadLit is a recently launched company that provides an online source for romance literature with a variety of resources. Cleveland is based out of the Los Angeles area.
Her past experience includes leadership roles at Universal Universal Studios Consumer Products Worldwide Group, Imaginarium Toy Stores, and Teleflora Gifts (worldwide network of florists). Her business accomplishments include international expansion and billions of dollars in retail sales for Universal Studios, developing a successful line of over 200 Imaginarium-branded toys, and expanding Teleflora's market to Eastern Europe and Asia. Cleveland also has worked for Mattel, Contadina Italian Foods, and Carnation Food Company (now Nestle Foods).
She graduated from Indiana University in 1974 and 1976 with a B.S. in education and a M.S. in psychology. Cleveland also holds a M.B.A. from University of Southern California. She currently serves on the IU School of Education National Board of Visitors and received its Distinguished Alumni Award in 2003.