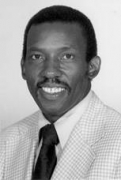 Awards
School of Education Distinguished Alumni Award (1999)
About Jimmy Ross
Jimmy L. Ross was the first director of the IU Office of Scholarships and Financial Aid and the first African American to lead a major administrative, non-academic unit at IU Bloomington. Ross was a familiar figure to many students, faculty and staff at IU Bloomington when he led the office between 1973 and 1988. He continued to remain involved in IU activities and visible in the community after his early retirement in 1988 due to a degenerative spinal condition.
At the time of his retirement, he was honored by the National Association of Student Financial Aid Administrators (NASFAA) with its Distinguished Service Award.
Born in Louisiana on March 16, 1942, and raised in El Dorado, Ark., Ross earned a bachelor's degree from the University of Arkansas at Pine Bluff in 1965, a master's degree from the University of Illinois in 1966 and a doctorate in education from IU in 1976.
Ross played an important role in race relations at IU and helped many first-generation students adjust to life at the university. He was known to be very supportive of IU's Groups Program, which has helped to improve low college attendance rates among first-generation, low-income and disabled students in Indiana since 1968. Ross understood the challenges they faced because as an undergraduate, he had put himself through college. He worked several part-time jobs as a butcher, cook, mechanic and yard-keeper, while at the same time being captain of the University of Arkansas at Pine Bluff football team and student body president.
He was active in associations of financial aid administrators and several other organizations, including the Mid-American Association of Educational Opportunity Program Personnel. He had positions on NASFAA's journal editorial board, research committee and minority affairs commission and many other state and regional assignments. Ross served as a consultant and instructor for the College Scholarship Service and was a member of the executive committee of the Midwest Regional Assembly, College Entrance Examination Board.
Outside academe, Ross served as president of the Exchange Club of Northside Bloomington and was a special assistant to then-Indiana Gov. Otis Bowen for the state's portion of national bicentennial activities. He was a member of St. Paul Catholic Center and Phi Beta Sigma fraternity, and a founding member of the Neal-Marshall Alumni Club at IU. He was a founding member of BR&W Real Estate, which developed properties near Lake Lemon, and also briefly operated a restaurant in Bloomington called The Barbecue Pit.