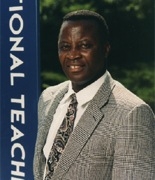 Awards
Bicentennial Medal (2020)
School of Education Distinguished Alumni Award (1994)
About Francis Mustapha
Francis Mustapha is a retired high school biology teacher in the Fort Wayne Community Schools, having taught at South Side High School and Snider High School since 1983. He was selected as the 1994 Indiana Teacher of the Year. After retiring in 2011, Mustapha has been traveling back and forth between Fort Wayne and his home village in Sierra Leone, Africa to raise money and build schools in the area.
He graduated from Marion College (now Indiana Wesleyan University) in 1972 with a B.A. in biology and later received his M.A. in botany and Ed.S. from Indiana University.
In 2020, Francis Mustapha was presented the Bicentennial Medal for his distinguished service to Indiana University.