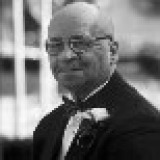 Awards
School of Education Distinguished Alumni Award (1993)
About Samuel Robinson
Samuel Robinson is the president emeritus of the Lincoln Foundation, an organization focused on providing educational enrichment programs that develop and support youth in overcoming barriers to achievement in Louisville, KY.
After graduating from Tennessee State University in 1956 and serving in the Army for two years, Robinson came to Louisville in 1960 to work for the Lincoln Institute, a school created by Berea College in 1912 in Shelby County to educate black Kentuckians. He taught biology and math before becoming the principal, Dean of Education, and Administrative Assistant to the President. When the school closed in 1970, Robinson became the principal of Shawnee High School before attending IU for his Ed.D. Upon his return to Louisville, Robinson became the executive director of the Lincoln Foundation and later its president in 1991. He retired in 2000, but has continued to work with Montessori schools and Bellarmine University as its Executive-in-Residence.
Robinson has been very active in the Louisville community, starting with the West End Community Improvement Association, which tried to stem white flight as blacks moved into West Louisville neighborhoods. Robinson served on the boards of Bellarmine University, PNC Bank, the National Board of the Presbyterian Health, Education and Welfare Association, and Indiana University School of Education Board of Visitors. Currently, he serves on the board of the Muhammed Ali Center and the Africian-American Heritage Center. Robinson is a co-founder of the Louisville Chapter of One Hundred Black Men and the Kentucky Minority AIDS Council. Additionally, Robinson was very active in the civil rights movement in the 1960s and '70s, and when the Jefferson County Public Schools were ordered desegregated, he was co-chairman of the council that helped map out the plan. Robinson has received over 100 honors throughout his career, including induction into the National African American Hall of Fame. He has received honorary doctorates from Northern Kentucky University and Bellarmine University. In 1997, Louisville Magazine named him one of Louisville 's 50 most influential citizens. In 2001, Louisville Mayor David Armstrong presented Dr. Robinson with the city's second Dream Award, which recognizes someone who reflects the principles of Dr. Martin Luther King Jr.