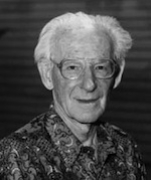 Awards
School of Education Distinguished Alumni Award (1993)
About Jerrold Kemp
Jerrold Kemp is a retired professor of education at San Jose State University. Kemp is best known for his contributions to the field of instructional technology.
Kemp graduated from Indiana University with his doctorate in instructional technology in 1956. His career in academia began at San Jose State University, where he worked as a professor of education and coordinator of media production and instructional development services. Kemp remained at SJSU for thirty years until his retirement. Prior to working at SJSU, Kemp was a science teacher and media coordinator in Miami for four years.
Kemp is the author of five textbooks, a former president of AECT (Association for Educational Communications and Technology), and has consulted on educational projects and practices throughout the country and overseas. He also consulted on the redesign of the training programs for companies in Silicon Valley.