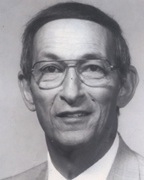 Awards
School of Education Distinguished Alumni Award (1992)
About Louis C. Stamatakos
Louis C. "Lou" Stamatakos was a WWII Air Force veterand and a university professor.
Stamatakos grew up in Dayton, OH, which was a national aviation center. At the age of 17, he volunteered for the Air Force in 1943, surviving the war with 31 missions as a tail gunner in a B-17 Flying Fortress over Germany. He received the Silver Star for his action during a bombing run that saved the lives of ten others in a plane when two bombs became stuck in the plane. After the war, Stamatakos returned home to Dayton, attending the University of Dayton.
He later transferred to Indiana University, where he would earn his B.S., M.S., and Ed.D. Stamatakos became an university administrator at four different schools, serving as the Dean of Students and Dean of Men. In 1967, he became an associate professor in the School of Education at Michigan State University and retired as professor emeritus in 1992. During his academic career, he earned more than twenty awards for his service in higher education.