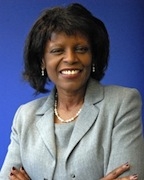 Awards
School of Education Distinguished Alumni Award (1992)
About Valora Washington
Valora Washington is an expert on early childhood care and education and the founding president of the CAYL Institute, an organization that develops policies for high-quality early childhood education. She has also co-created several other organizations such as Michigan's Children and the Early Childhood Funders Collaborative.
Washington is active in the education field, having led as the co-chair of the Massachusetts Governor's School Readiness Commission, board chair for Voices for America's Children, secretary of NAEYC, chair of the Black Caucus of the Society for Research in Child Development, co-chair of the National Head Start Association Commission on 2010, and as a member of the current governor's Readiness Commission subcommittees. Currently, she serves as a trustee of the Boston Children's Museum and Wheelock College. Since 2005, she has worked on workforce development initiatives in Massachusett and completed service as one of three co-chairs on the Massachusetts Task Force on the early Education and Out of School Time Task Force in 2008.
Previously, Washington was the vice president of the Kellogg Foundation, where she helped develop over $18 million in grants related to early education and child welfare, and $86 million overall. Also, she has held executive and teaching positions at institutions including Howard University, Antioch College, and the University of North Carolina at Chapel Hill. Her publications include "Children of 2010" and "Keeping the Promise: a Study of the Massachusetts Child Care Voucher System". Washington attended Indiana University and Michigan State University, and holds honorary degrees from Bennett College and Meadville Lombard Theological School.