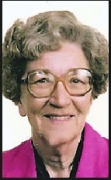 Awards
School of Education Distinguished Alumni Award (1991)
About Janice Farmer Weaver
Janice Farmer Weaver was the retired dean of the College of Education at Murray State University. Her personal and financial contributions left a great impact on the university, which opened the Weaver Center for Academic Enhancement in 1977 in her and her husband's honor.
Weaver held a B.A. from Kentucky Wesleyan College, and a M.A.T. and an Ed.D. from Indiana University. She began her career as a teacher at Owensboro High School in her hometown of Owensboro, KY in 1952. She worked in public schools in both Kentucky and Indiana until she began her academic career at IU in 1961. In 1964, she joined the faculty at Glassboro State College (now Rowan State) in New Jersey and worked her way up to the position of the dean of the College of Professional Studies before taking over as a professor and dean at Murray State University in 1985. Weaver retired in 1997.
Her career brought great acclaim, such as a Golden Horseshoe Award from MSU and the Distinguished Teacher and Distinguished Alumnus awards from Indiana University. Weaver is the only person ever elected president of all of the following professional organizations: Professors of Education, Deans of Teacher Education of Colleges and State Universities, and the American Association of Colleges of Teacher Education (AACTE). She also served as a board member for all those organizations along with service on the boards of the National Certification Association for Teacher Education and the National Standards Board for Education. In addition, Weaver was chosen "Educator of the Year in Kentucky" in 1989.