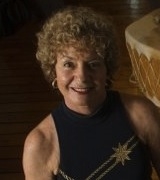 Awards
School of Education Distinguished Alumni Award (1990)
About Sharon Burmeister Lord
Sharon Burmeister Lord is the first female professor of educational psychology at the University of Tennessee, where she taught from 1969 to 1980. She also was the Deputy Assistant Secretary of Defense for equal opportunity and safety policy in 1981 and 1982 under the President Ronald Reagan administration, which made her the highest ranking woman at the Pentagon with the rank of a three-star general.
After earning her undergraduate and postgraduate degrees at West Virginia University and Indiana University, Lord became an influential force at University of Tennessee. During her time there, she helped with the development of the UT women's athletics program. In 1971, she proposed creating a task force on women to then-UT Chancellor Archie Dykes, which led her to become the chairperson of the Committee on Women in Sports. This task force was significant to the initial funding and formation of the UT Women's Athletics Department. She was selected as the UT Alumni Association Outstanding Teacher in 1973, and she instrumental in the development of programs such as Women's Studies and Black Studies. Lord also created the UT Appalachian Center for Educational Equity, becoming its first director.
In 1981, Lord was profiled in the Washington Post, which reported on what she discussed on the topic of sexism, catching the eye of the Reagan Administration. The government offered her the job of the Deputy Assistant Secretary of Defense and she drafted the Pentagon's sexual harassment policy that was in place during the Reagan years.
Lord returned to her home state of West Virginia in 1985, becoming the state's commissioner of human services. She was later appointed to the West Virginia Board of Trustees in the 1990s and served on numerous boards for social and health systems agencies.
Awards include the Secretary of Defense Outstanding Public Service Medal, Indiana University School of Education Distinguished Alumni Award, and the West Virginia University Alumni Recognition Award.