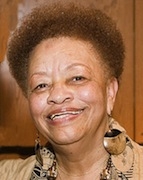 Awards
IUPUI Spirit of Philanthropy Award (2018)
School of Education Distinguished Alumni Award (2012)
About Patricia A. Payne
Patricia A. Payne is a tireless advocate for educational equity and has made her life's work fighting for social justice. Payne earned her bachelor's degree, master's degree and administrative license from the Indiana University School of Education. She then spent 25 years as an elementary teacher before being appointed to create Indianapolis Public School's Crispus Attucks Center charged with furthering excellence, scholarship, respect and courage toward greater student academic achievement.
A luminary in the Indianapolis community, Payne has made an impact around the country. Respected at the state's highest levels, she has been an Indiana State Teachers Association board member and committee chair. Indiana Gov. Evan Bayh appointed her to serve as a commissioner on the Teacher Education Licensing Study Committee. Nationally, Payne has served on the National Education Association's board of directors, chairing numerous committees including the Black Caucus and Minority Affairs Committee.
Heralded by many for her extraordinary work, Payne was the 1984 Indianapolis Public Schools Teacher of the Year and an Indiana State Teacher of the Year finalist. She has been honored by countless organizations including the Indiana Civil Rights Commission, the Atlanta-based Martin Luther King Institute for Social Change, the Indiana Black Expo and the NAACP. In 1990 she received an Honorary Doctorate of Humane Letters from Martin University founder and civil rights visionary the Rev. Boniface Hardin.