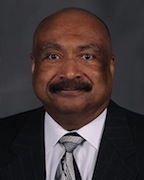 Awards
School of Education Distinguished Alumni Award (2012)
IUPUI Spirit of Philanthropy Award (2005)
About Gerald O. Thompkins
Gerald O. Thompkins, BS'70, MS'77, was born in Harlem and grew up in Indianapolis. He earned his Bachelor of Science and Master of Science from the Indiana University School of Education, and his Ph.D. from Michigan State University. Thompkins is the recently appointed director of the STEM Research and Education Center for Kent State.
Formerly the associate dean for student affairs at Wayne State University College of Engineering, Thompkins has a portfolio that includes enrollment management, business development partnerships, cooperative education programs and international student exchange programs. He also directed the Center of Academic Excellence in National Security Intelligence Studies and the Michigan-Louis Stokes Alliance for Minority Participation. Previously, he was director of engineering programs at Michigan State.
Thompkins is also a retired commander from the United States Navy, serving throughout the United States, Iceland and Japan. His 22-year naval career began as an intelligence officer and subsequently as a training officer for an Anti-Submarine Warfare Operations Center unit. He was later promoted and served as a commanding officer for the Navy's Law Enforcement and Physical Security Unit in Selfridge, Mich. Commander Thompkins' awards include the Navy Commendation Medal, National Defense Service Medal, Navy Achievement Medal, Armed Forces Reserve Medal, Air Force Organizational Excellence Award, Recruiting Gold Wreath Award and various unit and service ribbons.