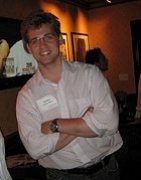 Awards
School of Informatics Young Alumni Award (2012)
About Jordan E. Martz
In the years since he graduated from IU Bloomington with a degree in informatics, Jordan Martz has built an impressive list of places he's been and companies he's had the opportunity to work with. As an IT consultant with an entrepreneurial mind, that experience with companies ranging from start-ups to large international firms adds up to vast knowledge that he draws upon to provide unique solutions and service to clients near and far.
To date, he has worked with a wide range of clients all over the country. His current position is as a senior professional services consultant at Kalido, Inc., a large healthcare company. In addition to providing his services to Fortune 500 companies, Jordan founded and is the principal consultant and trainer for DataMartz Training and Consulting Services.
Martz was a student leader during his time at the School of Informatics and Computing in Bloomington, and since graduation, he has remained highly engaged with the School. He served on an alumni panel at the School's 10th Anniversary celebration in 2010, and he is actively involved in the planning and marketing of Chicago-area alumni events.