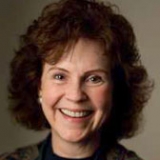 Awards
Luddy School of Informatics, Computing, and Engineering Distinguished Alumni Award-Distinguished Service Award (2012)
IUPUI Spirit of Philanthropy Award (2012)
About Barbara M. Hayes
Barbara M. Hayes has provided exemplary service to the School of Informatics at IUPUI for the past nine years. Today, she plays a pivotal role in the School's day-to-day operations as the associate dean for administration and planning. In that role, she assists with strategic planning, implementing, and evaluating academic and research initiatives. She works on promoting positive relations with the School's external corporate and academic partners and interpreting the School's programs and capabilities for organizations seeking assistance with research, projects, or internships. In addition, she teaches several informatics classes and is highly engaged in building various health-related strategic projects for the School. She served on the School's initial IMPACT campaign steering committee, to which she and her husband, John, contributed leadership-level financial support.
Before joining the faculty in October 2003, Hayes was senior consultant at the St. Vincent Stress Center, responsible for content for their websites. While there, she designed and implemented a nationally recognized interactive web-based kiosk to support the families of patients in the hospital's intensive car unit. Hayes' career in social work included providing mental health consultation to primary and specialty care physicians. In addition to maintaining a private psychotherapy practice for many years, she also held positions as director of outreach for psychiatric services at Methodist Hospital of Indianapolis and coordinator of outpatient consultation for Midtown Mental Health Center.
Hayes has an enduring interest in the psychological consequences of medical and surgical illness as well as issues of medical adherence. She pursued her master's degree in the media arts and science program at IUPUI to explore ways in which digital technology might be used to deliver medical and psychosocial care. Today, her research interests are varied, including social informatics topics such as privacy, virtual communities, and governmental policies affecting the deployment of information technologies. She also follows organizational informatics topics such as outsourcing, measures of IT investment, and trends in IT leadership.