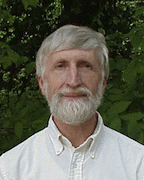 Awards
Luddy School of Informatics, Computing, and Engineering Distinguished Alumni Award-Distinguished Service Award (2013)
About Andrew J. Hanson
Andrew J. Hanson is a professor emeritus of computer science at IU. Hanson received his B.A. from Harvard College and a Ph.D. in theoretical physics from M.I.T. in 1971. He pursued research in physics and artificial intelligence at a number of institutions, including the Institute for Advanced Study in Princeton, the NASA-Ames Research Center, and SRI International in Silicon Valley. He arrived at Indiana University in 1989, his first academic position, and established himself as a teacher and researcher in computer graphics and scientific visualization.
In the Computer Science Department at IU, he taught and supervised many Ph.D. candidates, as well as taking on significant administrative roles. He was the Graduate Program Director for six years and then Department Chair from 2004 through 2009, guiding the Department through its merger in July 2005 with what is now the School of Informatics and Computing.
Throughout his career, Hanson was recognized as a researcher: he attracted over $1.3 million in research grants, published often, and designed a successful iPhone application, 4Dice, supporting interactive exploration of 4D space. In retirement, he engages in research in subjects ranging from proteomics and genomics to quantum computing and the creation of mathematical sculptures. He has several books involving computer graphics and mathematics in the planning stage.