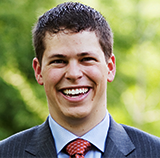 Awards
School of Informatics Young Alumni Award (2013)
About Russell Conard
If something is "for the birds!" it sounds nutty, but according to Forbes Magazine, it could be worth millions. Recent Informatics graduate Russell Conard combines his love for birds and data in a novel entrepreneurial approach for pioneering energy developers and other outdoor-based businesses. Replacing time-consuming observation methods with remote systems, his company electronically surveys bird activity and analyzes its impacts on wind farms, airports, and other entities that have negative interactions with identified flying objects.
Conard cites rich experiences pursuing his bachelor's degree in the School of Informatics and Computing with preparing him for the rigors of a robust new start-up. While at IU, he helped found the Undergraduate and Graduate Technology Entrepreneurship Organization, and he was a team leader in Serve IT, providing IT expertise to local nonprofit agencies. His company, Ornicept, received funding in the School's 2012 inaugural Building Entrepreneurs in
Software and Technology (BEST) competition. Conard also credits scholarships he received, including the Telamon Informatics and School of Informatics and Computing scholarships, with providing the support necessary for him to succeed at IU. Based in Ann Arbor, MI, Conard was recently recognized by Forbes
Magazine as one of "30 Under 30" energy entrepreneurs to watch.