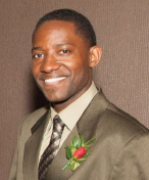 Awards
School of Informatics Young Alumni Award (2013)
About Leon Nowlin, Jr.
Hollywood called for Leon Nowlin, Jr., when he graduated in 2008 with his B.S. in Media Arts and Sciences from IUPUI, and he answered.
Nowlin identified film craft as his passion early on, and with the help of a high school mentor, he discovered the M.A.S. program was a perfect fit for him. The wonderful supporting cast, from the Career Services office to personal mentors, provided him with the guidance and flexibility that suited his focus on film. He polished his craft through internships and completed his degree online.
He began his career "camera-ready" as a compositing artist at Encore VFX in Los Angeles and has never looked back. Nowlin loves the collaborative process of visual storytelling and has worked on movies, television series, commercials, and music videos. Among his credits are House, Person of Interest, Argo, Gangster Squad, The Closer, and The Smurfs: A Christmas Carol. Five years into his career, his reputation is growing and his services are in increasing
demand.