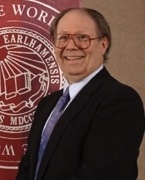 Awards
School of Library and Information Science Distinguished Alumni Award (2010)
About Thomas G. Kirk, Jr.
A 1965 graduate of Earlham College, Thomas G. Kirk began his career at Earlham as the Science Librarian, a position he held for ten years. In 1969, Kirk received his master's degree from Indiana University's Graduate Library School. While at Earlham, Kirk came under the tutelage of Evan Farber who greatly influenced Tom's career and who remained a close advisor and friend to Tom throughout his career.
In 1979, Kirk accepted the opportunity to move into library administration when he accepted a position at University of Wisconsin-Parkside as the Acting Librarian/Learning Center Director. He spent two years in Kenosha, Wisconsin before he moved to Berea College in Berea, Kentucky. It was in this position that Kirk started to hit his stride as a library administrator. After fourteen years at Berea, Evan Farber retired at Earlham College and Kirk was selected to succeed his mentor as College Librarian in 1994. In 2001, he added the responsibilities of Coordinator of Information Services at Earlham. Kirk retired in 2009.