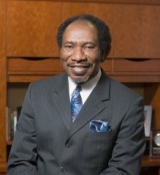 Awards
School of Education Distinguished Alumni Award (2013)
About Maurice C. Daniels
Maurice C. Daniels is dean and professor in the School of Social Work at the University of Georgia (UGA). Daniels is founder and director of the Foot Soldier Project for Civil Rights Studies and Research. He is the author of Saving the Soul of Georgia: Donald L. Hollowell and the Struggle for Civil Rights and Horace T. Ward: Desegregation of the University of Georgia, Civil Rights Advocacy, and Jurisprudence.
Daniels is senior researcher and executive producer of a number of civil rights documentary films. He is the author of various scholarly articles and conference papers focusing on civil rights and social justice. Honored by his colleagues repeatedly for his achievements and service, in 2001 he was selected for the African American History and Social Justice Award by the Athens-Clarke County NAACP. In 2004 the State of Indiana 113th General Assembly adopted House Resolution No. 74, which recognized Daniels's "accomplishments in the areas of civil and human rights and social justice." The same year, he received the Outstanding Research Award from the UGA School of Social Work, and in 2007 he was the recipient of the UGA President's Fulfilling the Dream Award. In 2010 Phi Kappa Phi honored him with the Love of Learning Award.
Prior to becoming dean, Daniels served as associate dean, director of the Master of Social Work program, and director of the Patricia Roberts Harris Fellowship Program at the University of Georgia. Daniels holds a bachelor's degree in Psychology, a master's degree in Social Work, and a doctorate in Higher Education Administration from Indiana University. In addition to his scholarly work, he is active in civil rights and social reform organizations. He is co-founder of the Athens Area Habitat for Humanity, co-founder of the University of Georgia Black Faculty and Staff Organization, and a life member of the NAACP and the Omega Psi Phi Fraternity, Inc.