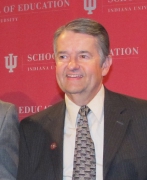 Awards
School of Education Distinguished Alumni Award (2013)
About Victor A. Smith
Victor A. Smith is a lifelong Hoosier and one of Indiana's most visible and active advocates for public education. Smith began teaching in 1969 and retired in 2009, but has done more than simply remain active. He has been a volunteer advocate and consistent voice for public education in the Indiana Statehouse. In 2011, he co-founded the Indiana Coalition for Public Education, an advocacy group supporting public schools and opposing the privatization of public education. Smith has written over 150 editions of "Vic's Statehouse Notes," a free email on education issues in the Statehouse.
Smith has been widely honored for his professional accomplishments and great contributions to education in the state of Indiana. His awards include the Indiana Council for Economic Education's Senesh Award for School Administrators; the Geography Educators Network of Indiana's Indiana Geography Teacher of the Year Award; the Special Service Award recognizing twenty years of service to the Indianapolis Public Schools' multicultural infusion conference; the Association for Teacher Educators-Indiana's Lifetime Service Award; the Indiana Council for Social Studies' Special Service Award; and the Indiana University School Administration Association's Contribution to Education Award.
He has served as a social studies teacher, curriculum developer, state research and evaluation consultant, state social studies consultant, district social studies supervisor, assistant principal, principal, educational association staff member, and adjunct university professor. Smith worked for Garrett-Keyser-Butler Schools, the IU Social Studies Development Center, the Indiana Department of Education, the Indianapolis Public Schools, IUPUI, and the Indiana Urban Schools Association, from which he retired as Associate Director in 2009. He taught at IUPUI as an adjunct professor from 1979 to 2010. Smith graduated from Elkhart High School and holds three degrees: BA in Education from Ball State University in 1969; MS in Education from Indiana University in 1972 and an EdD from Indiana University in 1977. Additionally, he holds a Teacher's Life License, a Principal License and a Superintendent License.