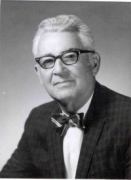 Awards
Honorary Degree (1985)

LL.D.
Doctor of Laws
Commencement
Bloomington, Indiana
Presenter: John William Ryan
About John Franklin Mee
At a time when the field of business administration was in its infancy as an academic discipline, John F. Mee brought into focus the principles that today form the basis of management theory. His innovative approach to management problems and his synthesis of diverse ideas profoundly influenced the course of business education and practice. John Mee joined the faculty of the Indiana University School of Business in 1939. In that year, he devised the first course in the country on the principles of management. The school's Department of Management, which did not exist when he came, owes its international reputation today in large measure to his seminal ideas in the field and his commitment to the department's development.
As an educator, Dr. Mee sharpened his students' thinking by expecting of them the same effort of creative analysis and insight into fundamental concepts that he brought to his own work on management philosophy. His socratic method in the classroom forced students to probe to the heart of a problem, creating an atmosphere of intellectual ferment that was demanding and inspiring.
A colleague has said of him, "There is perhaps no other faculty member in the School of Business who has so enshrined himself in the hearts and minds of so many students." Few others have left so indelible a mark on the leadership abilities and approach to management of generations of business graduates.
John Mee was born in Ada, Ohio, and received the A.B. from Miami University in 1930, and the A.M. from the University of Maine in 1932. He served as dean of Beal College in Bangor, Maine, from 1932 to 1934, then returned to Ohio as instructor in business and director of placement at The Ohio State University, positions he held from 1932 to 1939. He was awarded the Ph.D. by Ohio State in 1959.
His experience in placement was one of the many skills that John Mee brought to Indiana University and put to work on behalf of the School of Business. He founded the school's Placement Service, now looked upon as a model for university placement services, and devoted his remarkable energies to building relationships with corporations throughout the country. These relationships are invaluable to the school today and provide unmatched opportunities for Indiana University graduates.
Dr. Mee also initiated and served as the first director of the Indiana University Executive Development Program. He saw very early the importance of midcareer development for executives, a relatively new concept at the time. This concern led him to organize similar programs in this country and abroad. Throughout his career, John Mee was a leading international figure in management theory. His publications include the widely used book, Management Thought in a Dynamic Economy, and numerous articles in professional, business, and government journals. As an editor he helped to develop a distinctive series of books on management that has contributed significantly to American business curricula in the field. His ability to translate theoretical knowledge into practical applications placed him in great demand as a speaker at management conferences, and as a result he was a force in professional development in business firms for many years. His services were also in demand by federal and state government: following World War II he served as special consultant to the White House and on the Federal Mediation and Conciliation Service, led a management team to France, and advised branches of the armed forces.
In 1948, he was Commissioner of Revenue for the state of Indiana, and later directed the Indiana Study on Intergovernmental Relations. Many honors have come to him in recognition of his contributions to business theory, among them the Taylor Key Award from the Society for the Advancement of Management, designation as a Distinguished Scholar by Beta Gamma Sigma, and the presidency of the Academy of Management. In 1962 he was appointed the Mead Johnson Professor of Management at the School of Business. Recently the Irwin Family Foundation established the John F. Mee Distinguished Professorship Award, administered by the American Assembly of Collegiate Schools of Business.
Upon his retirement, John Mee generously donated to Indiana University his personal library on the history of management, one of the most extensive collections of books on the subject. This library, a unique resource, reflects the range and depth of his career.