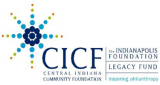 Awards
IUPUI Spirit of Philanthropy Award (2019)
IU Foundation President's Medallion (2008)
IUPUI Spirit of Philanthropy Award (2001)
About Central Indiana Community Foundation
The Central Indiana Community Foundation is a public charitable foundation. The Foundation awards grants to nonprofit organizations doing good work in the Central Indiana community.
In addition, the Foundation provides leadership to encourage highly effective charitable giving. As the steward of more than $700 million in charitable assets, the Foundation connects donors with causes they care about, serving as a catalyst for community change. The Foundation also makes smart, strategic investments in Central Indiana by granting funds to the area's most effective nonprofit organizations. Furthermore, the Foundation leads three community leadership initiatives designed to lift families out of poverty, help kids succeed in college, and create inspiring, beautiful public spaces.
The Foundation operates the Indianapolis Foundation, which, among other financial contributions, administers the Library Fund. The Library Fund is a $31 million field-of-interest fund of The Indianapolis Foundation. In 1989, an anonymous donor's bequest created the fund to benefit a number of high school, academic and public libraries in Marion County. The University Library has been one of the beneficiaries of the Library Fund.
Between 1990 and 2001, the fund has granted more than $9 million to various libraries. The Fund provides libraries with the opportunity to work together to enhance, expand and develop new services that could not be funded within current budgets. In 2000, the Library Fund awarded $2,585,436.