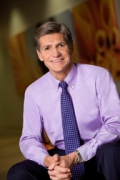 Awards
Kelley School of Business Academy of Alumni Fellows (2014)
About Marc S. Pritchard
As the top brand builder and chief marketer of the world's largest advertiser, Marc Pritchard oversees Procter & Gamble's brand building disciplines including consumer and market knowledge, communications, design and marketing to build some of the world's most iconic brands. He earned a Bachelor of Science degree in finance from the Kelley School in 1982.
Under his leadership in 2010, P&G created a historic partnership with the International Olympic Committee, leveraging the Olympic Games through 2020 to both grow its business in virtually every part of the world and strengthen the reputation of the company and its brands. The first event of the partnership, the London 2012 Olympic Games, yielded record retailer activation, award-winning advertising campaigns and unprecedented public relations and social media activity.
Since becoming global marketing officer in 2008 and then global brand building officer in 2009, Pritchard has focused the organization on meaningful consumer insights, leveraging those insights to create big creative ideas based from the brand's superior benefits, and that are powerful enough to engage people across all mediums to drive brand preference.
He has led brands in the health and beauty categories for P&G over the past 20 years. Throughout his career, Pritchard has led innovative branding and marketing campaigns, such as the "Easy, Breezy, Beautiful, CoverGirl" campaign, which remains the mantra of the brand today. The signature brands he has managed include Sure and Secret antiperspirant/deodorants; Pantene, Prell, Pert Plus and Vidal Sassoon hair products; Crest and Scope mouth care products; and Olay, Noxzema, Clearasil and Bain de Soleil skin care products.
While on a short-term special assignment overseas, he created the first information technology strategy for P&G that included launching consumer branding programs through the Internet and creating scale for the company through innovative new systems.
He serves on the board of directors for the Association of National Advertisers and chaired the Ad Council in 2012. He is a member of the Kelley School Dean's Council and has served on the Board of Directors for the World Trade Center Institute of Baltimore since 2001. In 2008 and 2009, Pritchard was recognized by Advertising Age as the No. 1 Power Player in the marketing industry worldwide.