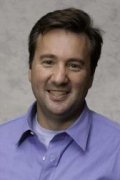 Awards
Kelley School of Business Academy of Alumni Fellows (2014)
About Michael J. Tattersfield
Michael Tattersfield joined Caribou Coffee Co. in August 2008 as the president and CEO. He oversees the operation of about 600 gourmet coffeehouses; growing the domestic, international franchise and commercial channel business; and strategically developing and differentiating the brand and culture.
Tattersfield leads more than 4,800 Caribou Coffee team members and is accountable to the Joh. A. Benckiser Board of Directors. He recently led the transition from a public company to a private company and helped drive a greater than 10 times increase in the company's market capital.
He previously served as chief operating officer and executive vice president of Lululemon Athletica, a yoga-inspired athletic apparel company based in Vancouver, British Columbia. For almost two years, he was instrumental in leading Lululemon Athletica through a period of impressive growth during which a 130 percent revenue increase was attained and in the company's successful initial public offering that took place in 2007.
He also has been vice president and enterprise head of store operations for The Limited Brands, which operates more than 2,900 stores throughout North America. From 2005 to 2006, he was the senior operating officer responsible for full strategic planning and performance execution of a $6 billion revenue function within the Limited Brands Enterprise. Before that, Tattersfield spent 13 years and held various operations, finance, branding and franchise leadership positions with Yum Brands, including as president of A&W All-American Food Restaurants and as managing director and CEO of Puerto Rico for Kentucky Fried Chicken, Taco Bell and Pizza Hut restaurants.
In addition to earning a Bachelor of Science degree in accounting in 1987 from the Kelley School, Tattersfield has an MBA from Harvard University. He is a member of the National Restaurant Association and the Specialty Coffee Association of America.