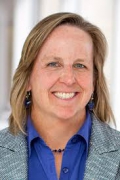 Awards
President's Award for Distinguished Teaching (2014)
About Kim Saxton
Kim Saxton has a Ph.D. in Business from the IU Kelley School of Business and a B.S. in Management Science from MIT Sloan School of Business. Having joined the Kelley Indianapolis faculty in 2004, Saxton currently teaches MBA marketing, online and elective courses as well as undergraduate marketing.
Saxton uses her expertise in market segmentation, intelligence systems, marketing strategy and corporate reputation, in both the classroom and her extensive research. Saxton has been cited for her development of online courses and her willingness to embrace the growing use of eTextbooks, a trend that promises to help reshape college education. Saxton presented for a webinar, "Best Practices in eText Use," for IU last fall.
Outside of the classroom Saxton has provided strategic planning and market research services to number of Fortune 500 and other large companies including Pfizer, Eli Lilly & Company, General Motors, The Coca-Cola Company, Exxon Chemical and American Honda.
Prior to joining IU, Saxton was a vice president at Walker Information, a manager at Eli Lilly, and an executive director at Xanodyne; experiences that helped shape her passion for data-driven decision making that is paramount to the art and science of marketing.