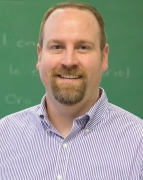 Awards
Lieber Memorial Associate Instructor Award (2014)
About Tony G. Hessenthaler
Tony G. Hessenthaler is a doctoral candidate and teaching associate in the Spanish department at Indiana University. In a concentrated effort to continually improve and expand his natural teaching abilities, Hessenthaler has taught a number of classes at IU, from 100-level Elementary Spanish to 300-level Introduction to Hispanic Literature.
He also created a series of translation workshops for M.B.A. students going to Peru for an international business venture and worked with a group of Kelley undergraduates preparing for an international business case competition to be held in Spanish. Hessenthaler also led 10 undergraduate students in a service-learning class as they volunteered with students in Spanish class at Bloomington New Tech High School. He works with vIDA Theatre and has directed a group of undergraduate student-actors in contemporary Spanish plays.
Hessenthaler is the recipient of academic honors, awards, and grants, including a 2012 Graduate Service-Learning Fellowship. He also was awarded the 2013 Department of Spanish and Portuguese Associate Instructor Award.
Hessenthaler received a B.A. from Utah State University in 2005 and a M.A. from University of Illinois at Urbana-Champaign in 2008.