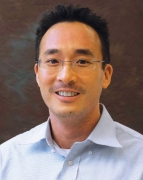 Awards
Lieber Memorial Associate Instructor Award (2014)
About David H. K. Nguyen
David Nguyen is a doctoral candidate and teaching associate in the department of Education Policy Studies at Indiana University. Nguyen received both his undergraduate degree and joint M.B.A./J.D. degree from IU, and practiced law for more than five years in Indianapolis before returning to IU in 2011.
Nguyen's careers and studies have spanned continents. While completing his master's studies, Nguyen was named visiting professor of business ethics at vietnam National University in Ho Chi Minh City, where he developed and taught graduate courses in business ethics for the university's M.B.A. and D.B.A. programs. From serving as the pro bono director of Disaster Legal Services to teaching tennis to kids, Nguyen touches the lives of all who cross his path and continues to put his mark on a handful of industries, companies, countries, organizations, and individuals.
At IU he has earned the prestigious Eberle Fellowship from the School of Education and the Tobias Center for Leadership Excellence Fellowship. Nguyen is also an emissary for graduate student diversity, a manuscript reviewer for the "Journal of Cases in Educational Leadership", and a regional reporter on federal supplement cases for the "School Law Reporter".