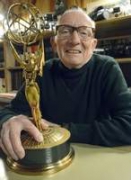 Awards
Emmy Award (1983)

Oustanding Art Direction
Performance: Tales of the Gold Monkey
About John Corso
A native of Wabash, John Corso grew up in Indiana before serving two years in the Korean War. He studied art and design at Indiana University. After college, he and his brother decided to move to Hollywood. Going from studio to studio, looking for work as an artist, the times were in his favor; since in the early 1950s, television was just starting to take off, so the studios were busier than ever. Corso was hired by Fox Studios as a set designer, and began a long and industrious career.
Working on many famous movie sets, such as "Psycho II", "The Breakfast Club" and "Ferris Bueller's Day Off", Corso won an Emmy for Outstanding Art Direction for a prime-time series, "Tales of the Gold Monkey," in 1983. Although he never won an Academy Award, in 1980 he was nominated (along with John M. Dwyer) for his work on "Coal Miner's Daughter." He was also nominated for an Emmy for Outstanding Art Direction for a Limited Series or a Special for "Centennial" in 1978, and Outstanding Art Direction or Scenic Design for a Drama Series for "Captains and the Kings" in 1976.
Since Corso's retirement in 1995, he has been busy in Wabash helping with set design at the high schools, and a few years ago he built a full-scale canal boat that was used in a Manchester Area Community Theater presentation of "Wait 'til You Get to Wabash." He also constructs floats for the local parades. In his spare time, he helps out at the Wabash County Historical Museum.